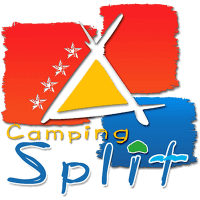 Campsite location
How to reach the campsite? Camping Stobreč Split location on the map & GPS campsite coordinates, information on buses, trains, ferry boats & airline connections.
GPS coordinates

43° 30' 14" N - 16° 31' 35" E
43 30.236 N - 16 31.592 E
43.503935 N - 16.526527 E

How to find us? How to find us from the Split center?
If you are arriving into the ferry port, the main bus or railway station, walk (approx. 5 minutes) from there to the green market (pazar), where the city bus stops.
To reach the camp (approx. 7 km from the center) you can get the bus number 25 (schedule) which will take you behind the reception of the campsite or you can use the bus with the number 60, 29 or 27 and exit on the bus station "Šine", approx. 5 minutes away from the campsite on foot.
How to find us from the airport?
If you are arriving at the airport, you can use a bus which drives directly from the airport to Split center or you can take the bus line 37 to reach the center of Split and then take one of the abovementioned bus lines.
How to reach us by car?