Rock climbing in Croatia, Dalmatia, Split…
Choose only the best rock climbing adventures in Croatia
20. September. 2016 Activities / Things to do
No matter if you are beginner or an climbing expert, or you just want to have a great day with your family, Dalmatia is the right choice for a rock climbing adventure. If you are a professional climber, we have some great news ;). In Dalmatia you can find some of the most difficult climbing routes in Croatia.
We will also take you to some great places for having a day full of activity and fun for families.
Rock climbing for beginners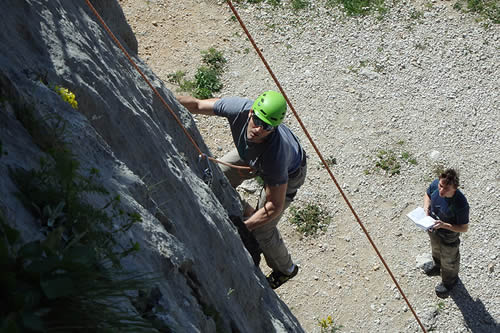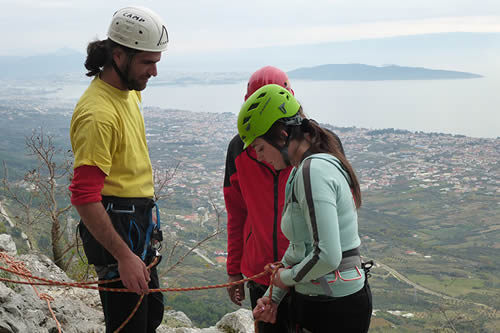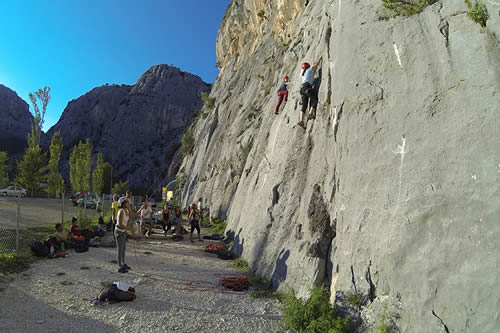 With only 15 minute drive from our campsite, Perun is our favourite for all those who want to take it easy. There are some easier routes on Perun of different lengths (up to 70 meters long), ideal for beginners who want to learn rock climbing and enjoy the beautiful nature and breathtaking views.
Rock climbing for experts in Dalmatia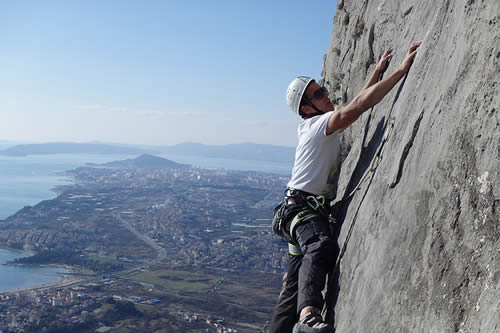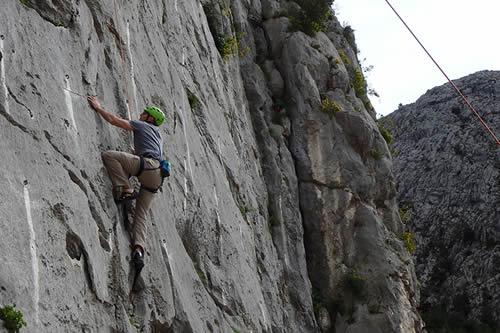 Two destinations pop out as ideal climbing areas in Dalmatia for advanced climbers. Omiš is a great climbing destination with sport directions with lengths up to 150 m (with a lot of sectors), but Biokovo is the ONE you should not miss. With lengths up to 800m it is one of the most demanding climbing areas in Croatia.
Rock climbing areas in Dalmatia
Dalmatia has become recognized as a destination that loves and continuously improves its rock climbing offer. There are numerous climbing areas so everyone can find something for a great climbing adventure. Here are some of the climbing areas in Dalmatia:
1.

Marjan (120 directions)

2.

Rupotine (30 directions)

3.

Bobanova greda - Kozjak

4.

Markezina greda - Kozjak

5.

Putalj - Kozjak

6.

Perun - Strožanac (Podstrana)

7.

Klobuk - Mosor

8.

Trogir

9.

Omiš (sport directions - up to 150m in length)
10.

Brela

11.

Vrisove glavice (directions up to 130m in length)

12.

Vruja

13.

Mimice

14.

Biokovo (directions up to 800m in length)

15.

Zadvarje

16.

Mila Gojsalić - Gata

17.

Bast - Biokovo
Split - an ideal rock climbing destination?
Well, for start Split (Dalmatia also) has great weather with more than 2600 sunny hours per year. With that in mind, it is important to say that the rocks are almost always dry, temperatures are pleasant and new rock climbing areas are opened every year.
Where to stay in Dalmatia?
Discover many interesting rock climbing destinations near Split while staying in our campsite. For all rock climbing lovers we have great special offers for mobile homes and pitches (especially in the low season). Check our price list and book your camping pitch or mobile home here and start your rock climbing adventure in Split.
Why rock climbing in Dalmatia?
Besides the adrenaline and the feeling of being on top of the mountain, great views of the Adriatic Sea, rivers and untouched nature will take your breath away. Pssst, be sure to take some great photos...
How can I book my rock climbing adventure?
Stop by at our reception and we will help you choose the best rock climbing adventure in Croatia. Booking is possible at the reception or by mail.
Click here and send us an inquiry